Jobs in Saudi Arabia, Vacancies (Aug 2022)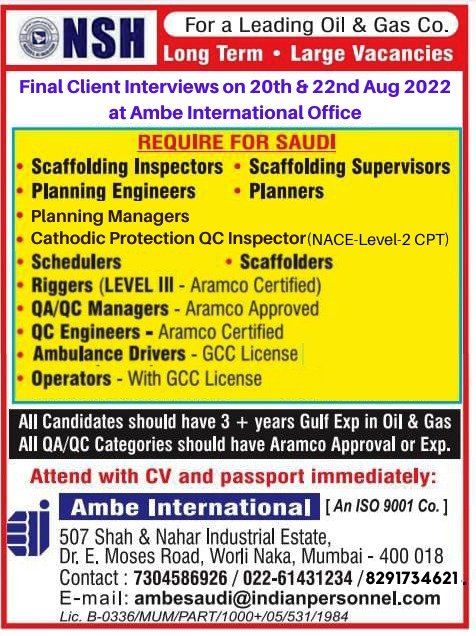 URGENT OPENING – SAUDI – LONG-TERM – LARGE VACANCIES
PLEASE FOLLOW @Ambe International-Recruitment and Mobility FOR DAILY UPDATES.
Urgently Required for a Reputed Oil & Gas Company.
Final Client Interviews on 20th & 22nd Aug 2022 at Ambe International Office.
All Candidates should have 3+ years gulf exp in Oil & gas.
All QA /QC Categories should have Aramco Approval or Experience.
SCAFFOLDING INSPECTORS
SCAFFOLDING SUPERVISORS
PLANNING ENGINEERS
PLANNING MANAGERS
SCAFFOLDERS
SCHEDULERS
CATHODIC PRTECTION QC INSPECTOR (NACE LEVEL 2 CPT)
RIGGERS ( LEVEL – III – ARAMCO CERTIFIED)
QA / QC MANAGERS – ARAMCO CERTIFIED
QC ENGINEERS – ARAMCO CERTIFIED
AMBULANCE DRIVERS – GCC LICENSE
OPERATORS – WITH GCC LICENSE
Interested candidates please share your CV on ambesaudi@indianpersonnel.com
call on -7304586926 / 2261431234 / 8291734621